What happens when I call a helpline?
Have you ever wondered what happens when you call a helpline? Have you been worried that your problems might not be big enough to ask someone qualified to help? Or maybe you've just wondered if a helpline really can help?
You are not alone. It's not uncommon to be unsure about how helplines work or understand what the people on the other end of the phone are able to assist you with.
Helpline workers are caring people who understand what you're going through. They are trained to support you.
That's why we've answered some of your frequently asked questions about helplines.
Frequently asked questions (FAQs)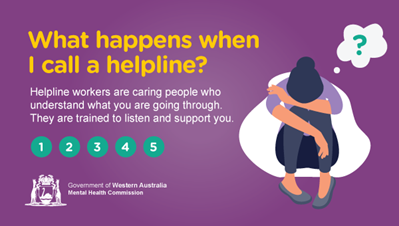 What happens when I call a helpline?
When you call a helpline like Here For You on 1800Here4U (1800 437 348), there are usually five simple stages to your call:
Your call will be answered by a recorded message with information about confidentiality and letting you know the call will NOT be recorded.
A team member will introduce themselves. You can give your first name, or remain anonymous, it's up to you.
It's okay if you are feeling nervous, the team member is experienced and will help you talk about what you have been going through.
They will assist you with a list of services you can get more help from, or help you identify a friend or family member to support you.
The team member may offer a follow up call or encourage you to call back if you need help again in the future.
When is it OK to call a helpline?
You can call anytime you feel that you need support or guidance. Helplines or support lines can provide you with immediate support and also give you information about services in your location.
Do I have to be in crisis to call a helpline?
Often it is best to call a helpline before your situation reaches a crisis point. Calling early may help your situation from getting worse.
However, a lot of people do call in a crisis and benefit from talking to a counsellor or other trained worker or peer who understands, doesn't judge and guides them through the next steps.
Who will I be talking to when I call a helpline?
Helplines can be different, some have professional counsellors, trained peer workers or trained volunteers. All are trained to listen and support you.
How long does a call take?
Most calls go for about 20 minutes, but some are longer and some are shorter. To get the most out of the call it's good to identify one issue or problem that is bothering you the most. And remember, if you need to call more than once, that is ok.
I am having trouble coping with a loved one's alcohol and/or other drug use and I don't know what to do?
Family, loved ones and carers can all access a helpline to work through feelings, learn healthy coping skills, tips on how to handle difficult behaviours that maybe impacting your home life and, most importantly, to learn how to care for yourself.
If you are concerned about someone's alcohol or drug use you can call the Parent and Family Drug Support Line on 08 9442 5050 (Metro) or 1800 653 203 (country callers) for confidential, non-judgemental, telephone counselling, 24 hours a day, 7 days a week.
What are the principles of helplines?
Most helplines should have a Client Charter. The Client Charter sets out the service standards that you can expect and how those services will be delivered to you.
Tips for calling a helpline
💡 If you are unsure how to start a conversation, try one of these conversation starters:
"Things are tough at the moment because …."
"At the moment I am dealing with … "
"I am feeling …"
💡 Try and find a quiet and comfortable space to make your call – a place where you are unlikely to be disturbed.
💡 Before making the call, it can be helpful to make a few brief notes about your concerns.
💡 Have a pen and paper ready so you can write down any information.
Get help
📞 For helplines and immediate access to confidential, free and anonymous support and advice, follow this link.
In an emergency call 000 or visit your local emergency department.