An update on key activities, projects and initiatives
Find out about the key high level activities supporting the Government's immediate priorities to reform and improve the mental health and AOD sector.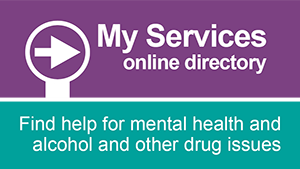 My Services Online Directory
My Services is an online directory helping to make it easier for consumers, carers and family to find mental health and alcohol and other drug support services.
Lived Experience
Involving people in the decisions that impact them is essential. Genuine and effective engagement results in services being developed and delivered in ways that meet the needs of consumers, support persons and the broader community. Get involved!
Budget Commitments 2021-22
The 2021-22 WA State Budget has been handed down by the Treasurer, with a record $1.114 billion investment in mental health, alcohol and other drug services in Western Australia.
Training
See the range of training courses we have available for professionals and volunteers
Events
We support several key events for the WA mental health, alcohol and other drug sector
Reports and resources
We have a large library of research reports, statistics and resources relating to mental health, drug and alcohol for health professionals, local government and more.
Find report or resource