Looking after your mental health during the COVID-19 pandemic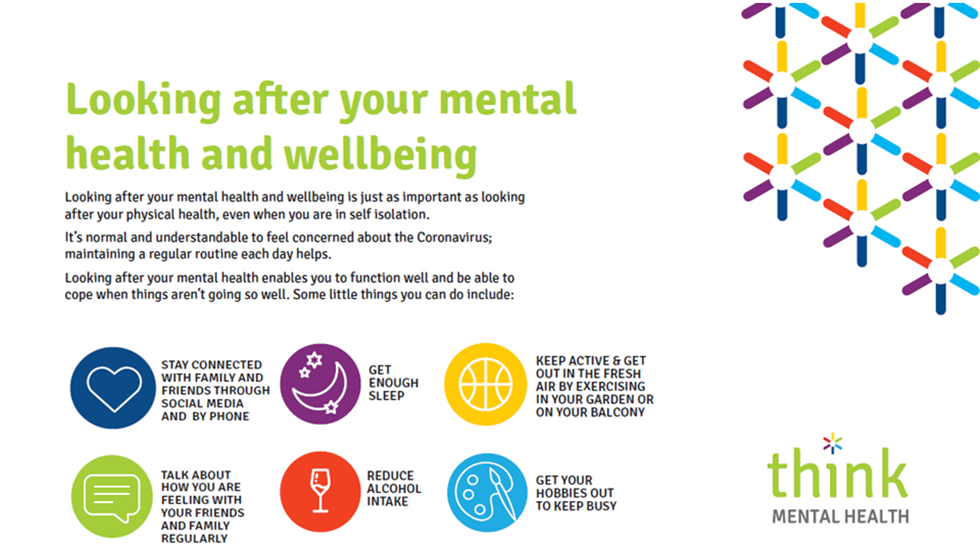 We recognise that many people in our community are feeling concerned about Coronavirus (Covid-19). These thoughts and feelings are normal and understandable.
As we are taking precautions such as hand hygiene and social distancing, there are also things we can do for our mental health and wellbeing. These include:
Find tips and information on how to protect our mental health on the Think Mental Health website
Access good quality factual information from credible sources – such as the WA Department of Health's healthywa.wa.gov.au, and www.health.gov.au or the World Health Organization's website www.who.int
Remember that there are many medical, scientific and public health experts are working on this.
If you're feeling anxious or worried seek support if you need it. You can call beyondblue on 1300 22 4636 for free counselling or Lifeline in a mental health crisis on 13 11 14.
For children and young people:
Have open and honest conversations
Relay the facts, in a way that is appropriate for their age and temperament. 
Listen to their questions.
Let them know that they are okay and it's normal to feel concerned.
For older parents, grandparents or friends:
Check in on them and stay in touch.
Help them with their physical and medical needs, if they need it, (with consideration to the latest advice from Health authorities)
Planning for self-isolation:
Make sure your wider health needs are being looked after such as having enough prescription medicines available to you.
If you are in self-isolation:
Develop a routine that suits you. Think about your needs such as meals, exercise, sleep, medication and how you will organise your day and home to create your new routine. Writing it out can help.
If you are well enough, find activities to keep your mind and body stimulated, including getting creative, exercising in your home, or self-care. 
Connect with your friends and family via phone, email or social media
Stay informed with good quality factual information from credible sources (see above) but also switch off and watch favourite TV/films/reading books.
Don't be afraid to rely on others to deliver medication, food or essential supplies to you to comply with your self-isolation requirements. Remember that you are helping others and potentially saving lives.
More information about mental health and coronavirus can be found at:
More information about coronavirus:
 Information about coronavirus for Mental Health Commission service providers can be found here.