Coordination and Communications Centre for Psychiatric Hostels
The Mental Health Commission has been working closely with agencies, and across the sector specifically in relation to COVID-19 planning for licensed psychiatric hostels.
Through this work, it has been identified that a coordinated approach is required to streamline and embed escalation and communication processes for all stakeholders.
To address this, the Commission has established the Coordination and Communications Centre to implement a range of strategies to support the psychiatric hostels during this period.
Information and directions regarding COVID-19 transition and face mask requirement in high risk settings can be downloaded here.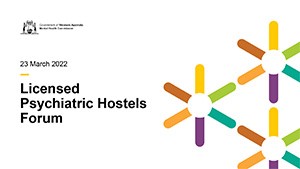 Download the Licensed Psychiatric Hostels Forum Presentation - 23 March 2022