Update for service agreements expiring up to June 2020
The Mental Health Commission (MHC) has commenced gathering information for decision-making on procurement options for service agreements expiring in the 2019/20 financial year.  This also includes establishing practices to engage consumers, carers, families and NGOs in the commissioning of services.
The Community Services Procurement Schedule (the Schedule) for the procurement of mental health and alcohol and other drugs services maps out the MHC's procurement timelines based on program areas over the life of the Western Australian Mental Health, Alcohol and Other Drugs Services Plan 2015-2025.
The MHC has been varying existing service agreements to align them to their program areas in the Schedule.  MHC is now doing service agreement reviews for service expiring in 2019/20.  Service reviews provide an opportunity for you to engage with your MHC contract manager to discuss performance over the period of the contract and areas identified for service innovation and improvement.  MHC Contract Managers are working with organisations on this process.
In addition, the service agreements in the Community Support stream in the Schedule are due to expire in June 2020.  The MHC has commenced activities to inform the procurement approach for those types of services.  The service agreements in the following Community Support stream service groupings are included in this process:
Education, employment and training
Family and carer support
Group support activities
Individual advocacy
Mutual support and self help
Personalised support linked to housing.
Information from the service agreement reviews, program reviews, consumers, family members and carers and NGO engagement will be used in the decision making for the procurement of those services going forward.  An infographic of this process is outlined below.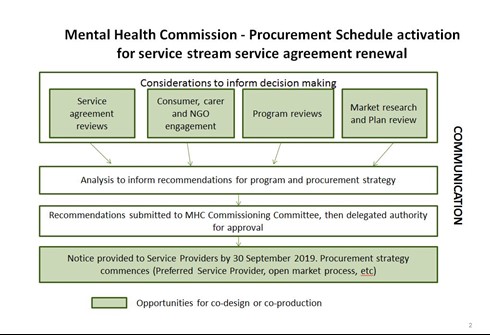 MHC will provide advice on our procurement intent to service providers with service agreements affected by these processes by 30 September 2019.
We look forward to continuing to work in partnership with you to deliver mental health, alcohol and other drug services to the community.